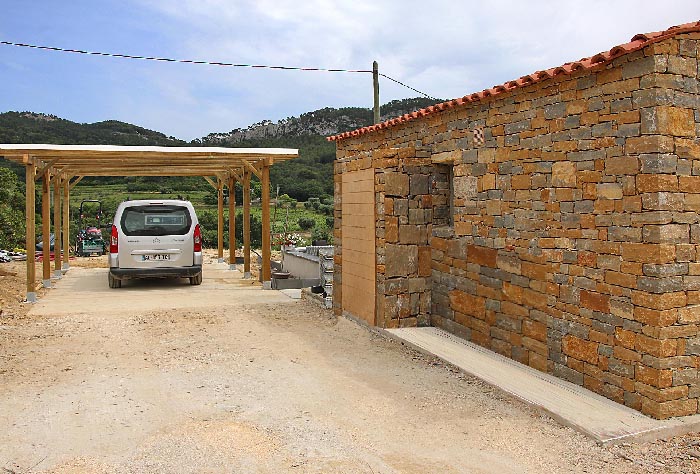 Your arrival
After probably a long journey, and the last piece part slightly difficult, you're here now! Park your car away from the sun, under the open garage/shelter, and admire the scenery. You are in the Valley with the amazing view, in the heart of the vineyard of Bandol, the famous AOC which stands for the work and use of materials of the 'Rose de Provence'.
On the left, the oil mill of Saint-Côme, which is worth the visit.
Let go of your luggage and open the fridge, a little welcoming surprise will be waiting.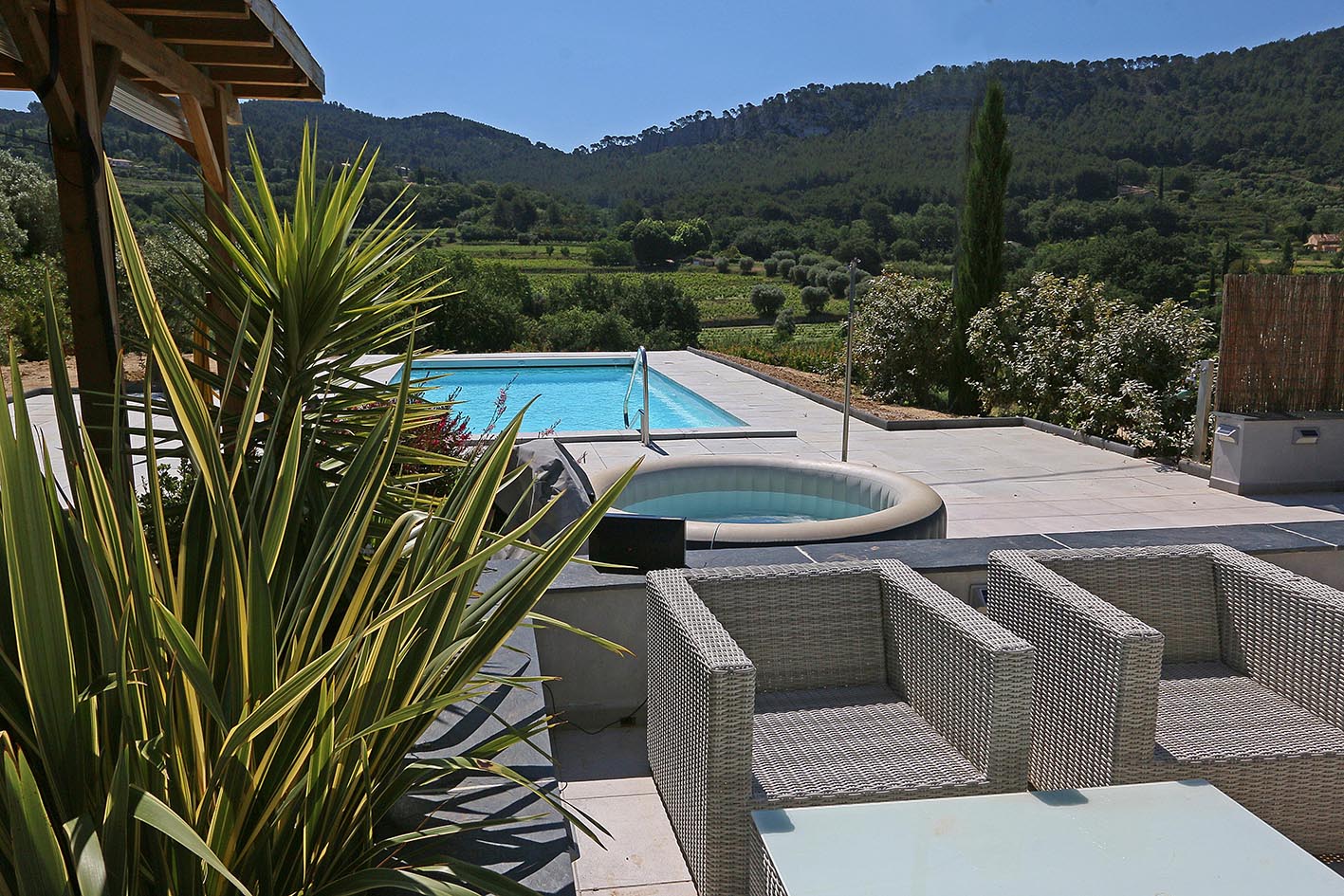 The terrace
It is on this terrace that you can relax, drink "le petit jaune" (French expression for a glass of Pastis), cook and eat your meals by the barbecue or plancha. The outdoor living room allows 8 seats; we can also add some outdoor cushions to add seating. 2 sunbeds for your sunbathing, and a 2-seater Spa with access provided specifically for the disabled. If it gets very hot, there is summer outdoor shower to freshen you up.
But also the private pool. It is heated for the mid-season, but also in case of hot weather it can be refreshed.
The pool is flat-bottomed, with a 30 cm beach. Depth maximum 1 meter 35, it is equipped with a device PMR for launching.


P>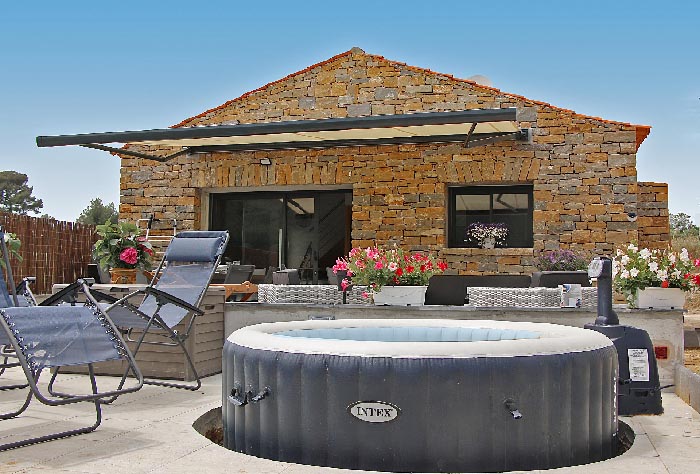 The entrance
Let's visit the Oustalet. This holiday house was originally a small hut. I had the idea to transform it, and given the high temperatures we have in Provence, I decided to completely decorate the outside with stones from the region. The 40 square meters house is completely fits into the landscape, and the materiels used are excellent insulators. For all needs and purposes, we installed a reversible air conditioning. The entrance is through a large 2-meter glass door. The threshold of the French window has been designed to easily pass, if necessary, with a wheelchair.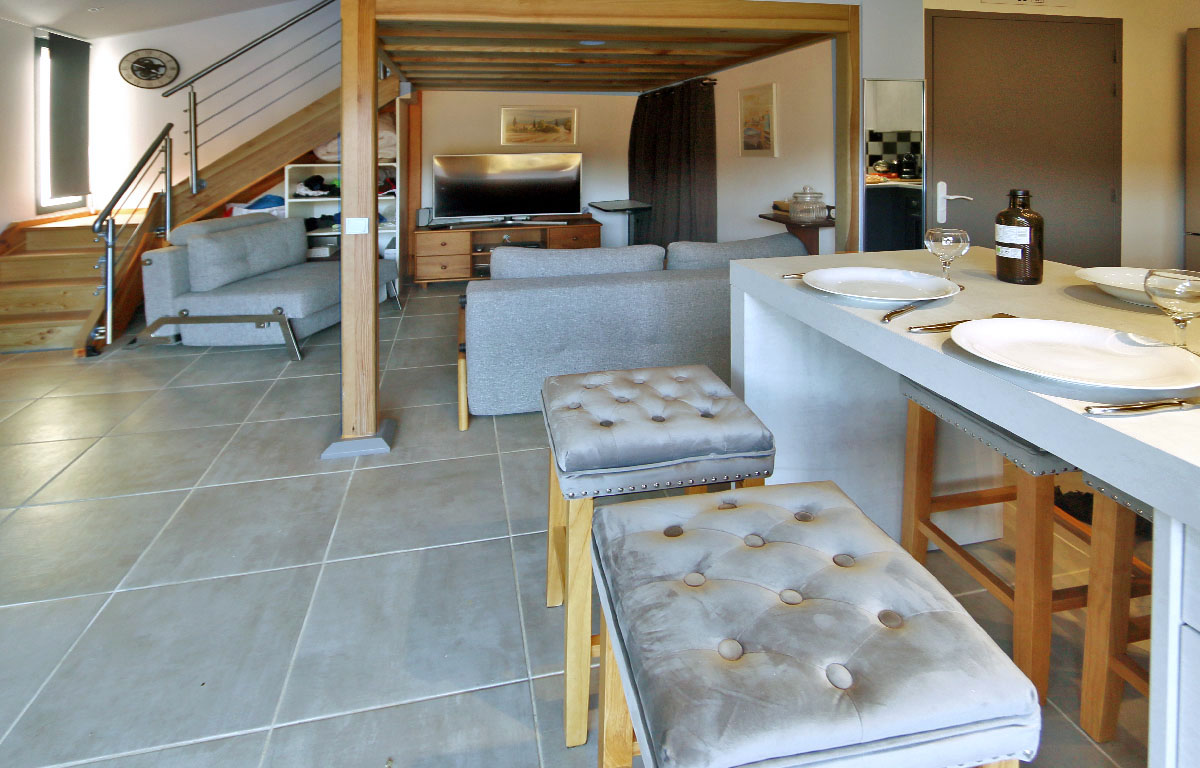 The living room
On the ground floor, there is the living room. You can watch Canal + and international channels on a big curved TV.
Along the left wall, an automatic closet-bed of 2 places. The bedding is very comfortable; the bedding is new. 1 sofa-bed 140 (Danish comfort) and an armchair completes the living room, as well as some storage. The staircase allows you to walk up into the upper room.
On the right, the open kitchen with all equipment and on the opposite, the bathroom and toilets.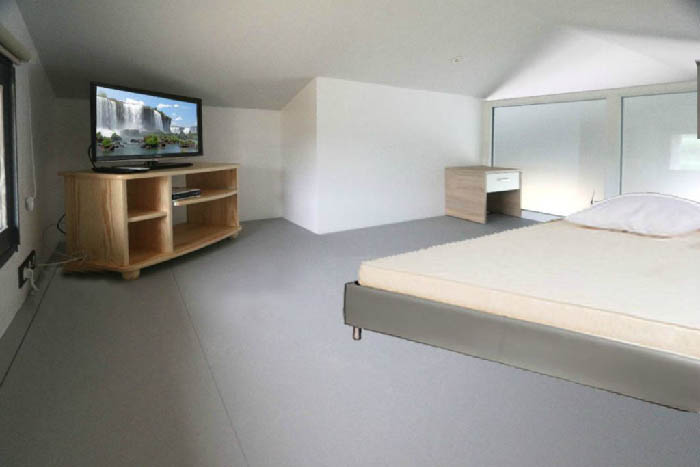 The Upper half of the House
The staircase provides access to the upper bedroom where there is a double bed of 140 cm. Keep in mind that the ceiling height is only 160cm, it will be perfect for children, there is also a 32-inch TV, with FrFrench TV channel, and some storage cupboards.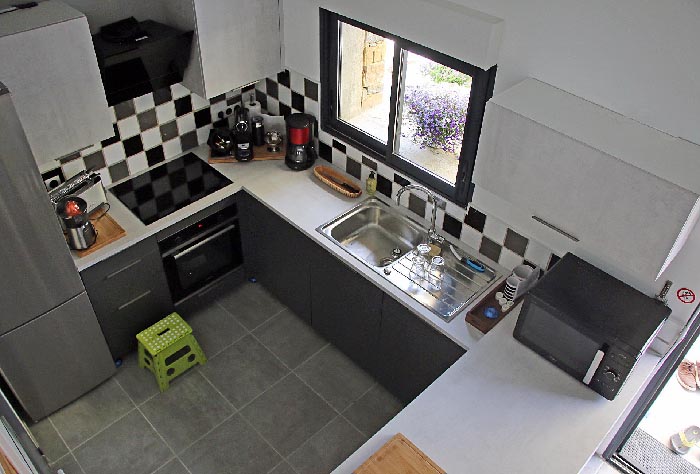 The kitchen area
Built in a contemporary style, the kitchen area is completely new (double sink, dishwasher, washing machine, refrigerator with freezer compartment, induction hobs and electric oven.) All necessary kitchen tools are provided.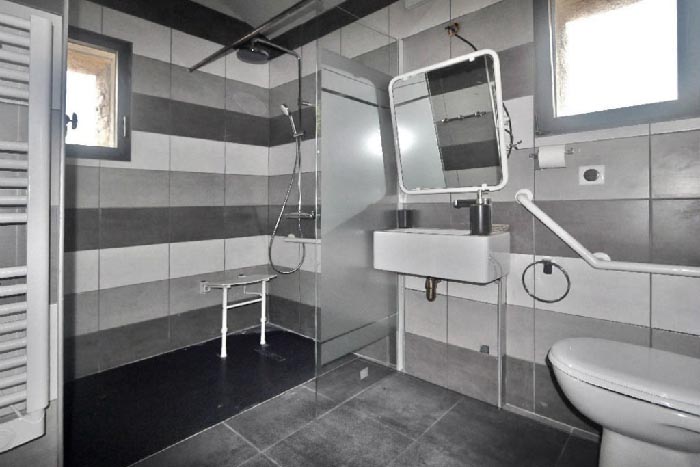 The bathroom, specially adapted for people with reduced mobility
Especially designed for a home that welcomes handicapped people, everything has been thought of, even small details such as electric buttons and flooring.
Open shower (Italian style)
Big storage cupboards
Hair dryer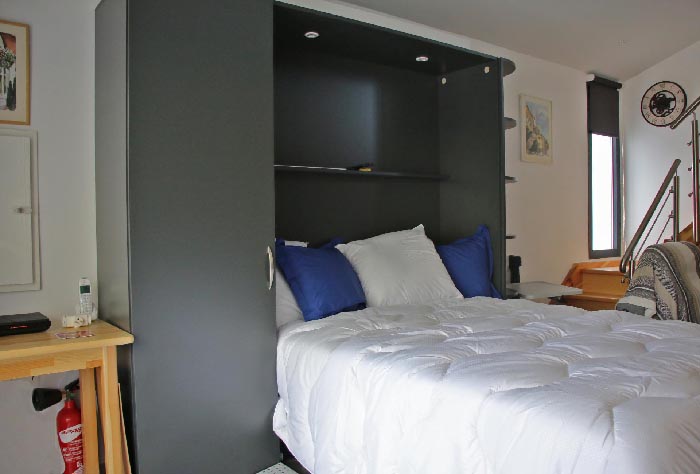 The equipment
Reversible air conditioning control.
Outdoor Cumulus of 200 litters.
Classic and Nespresso coffee maker
Deep fryer
Toaster
Microwave
Citrus press
Iron and ironing board
Kitchen equipment (pans, baking dish, salad bowls, "Dutch oven" (cooking pot).
Dishes for 6 people.
Bedding for 3 beds 140 x 190, duvets, blankets and pillows
Towels, linens.
Possibility of renting TIRALO (to access the sea). 19 € / day or 100 € / week.
Gas barbecue and necessary equipment.
Please note that there are some safety rules to be read in Provence.
The table opposite shows the availabilities and prices.
By hovering over a date, you can see the price.
From May to September rental is only possible for a whole week,
it starts on Saturday from 16 hours and ends the following Saturday at 10 am.
For other months, the minimum possible rental is 4 days.
To book you a deposit of 30% is required and a security deposit of
€ 500.
There is also a tourist tax of
€ 2.20
per day per adult.
Fee of 120 € for cleaning, sheets and barbecue gas.
SECURITY ROOLERS
The cottage is non-smoking. On the terrace, only use safe ashtrays. Close and cover the spa after use. Also close the stairs with the child safety code, (it is your responsibility).
See the detailed conditions here
An abundant documentation of the region is available in the house, and you can count on our help to help you discover our beautiful country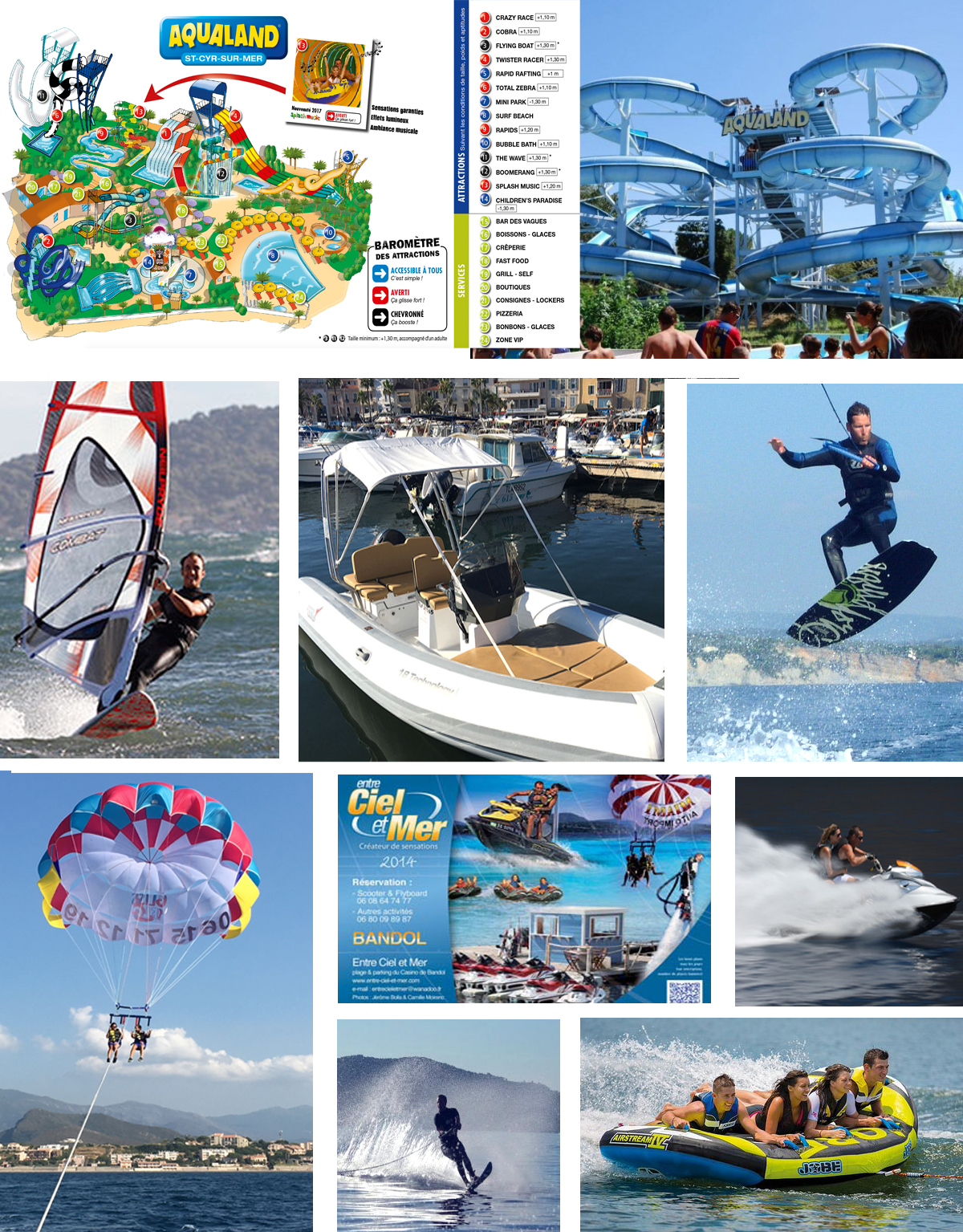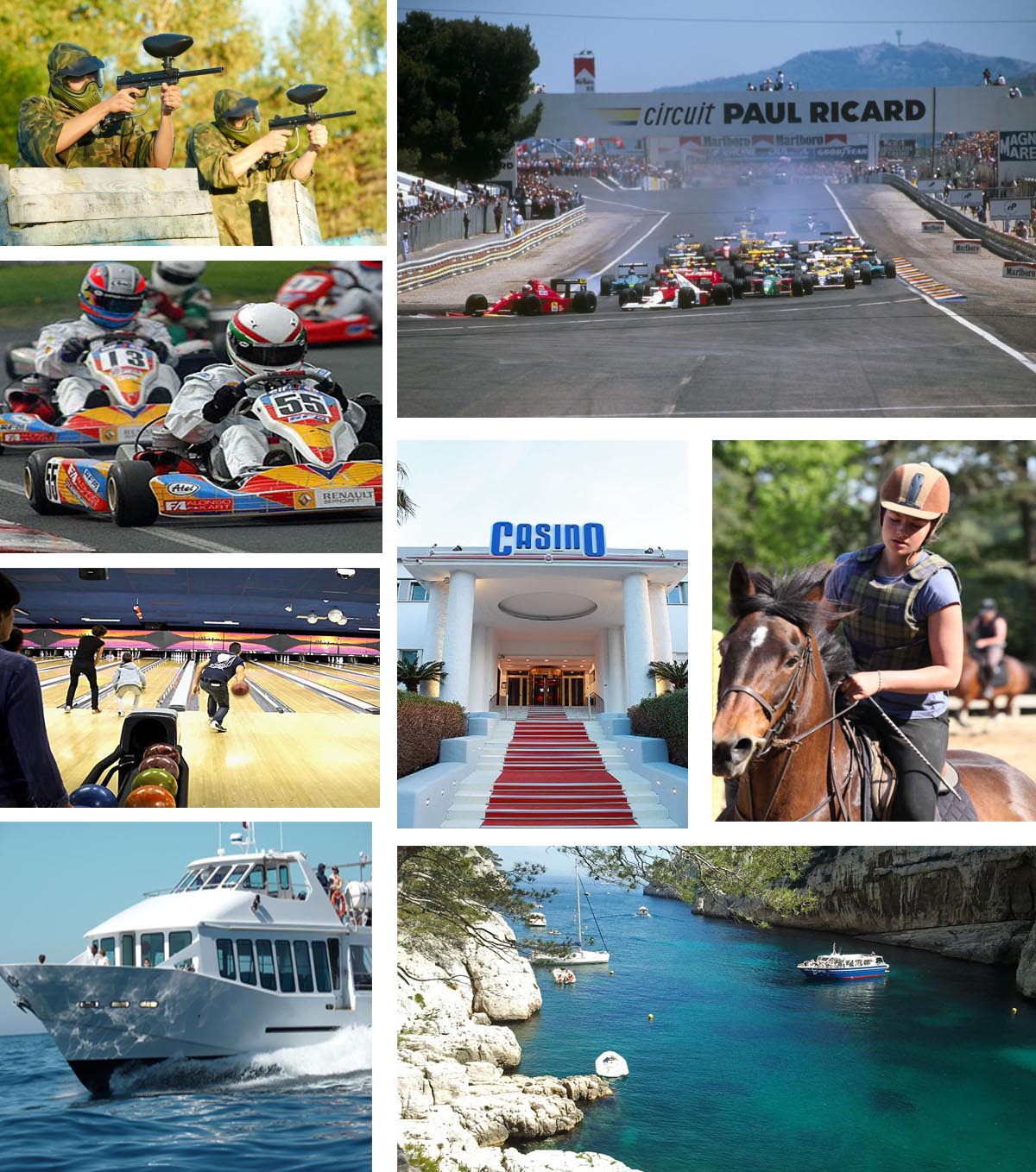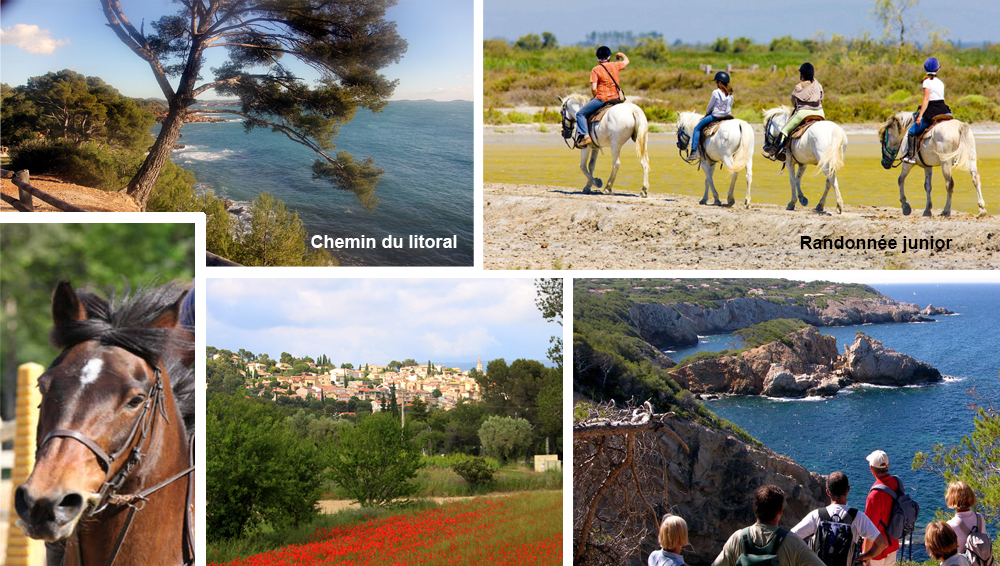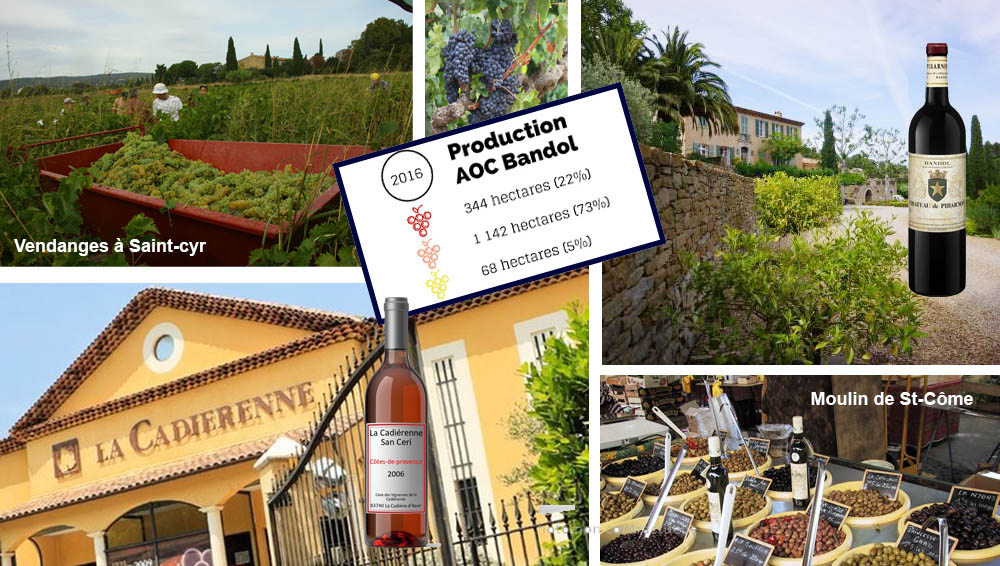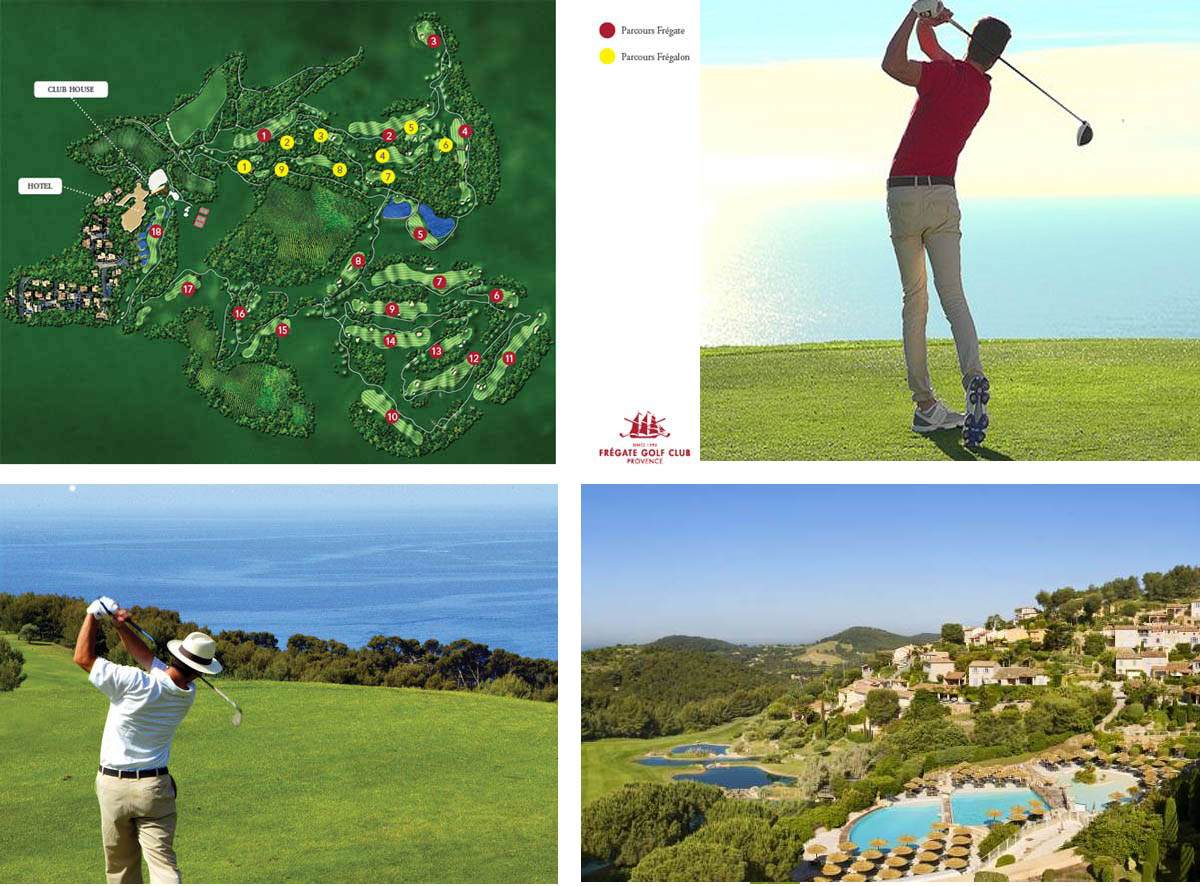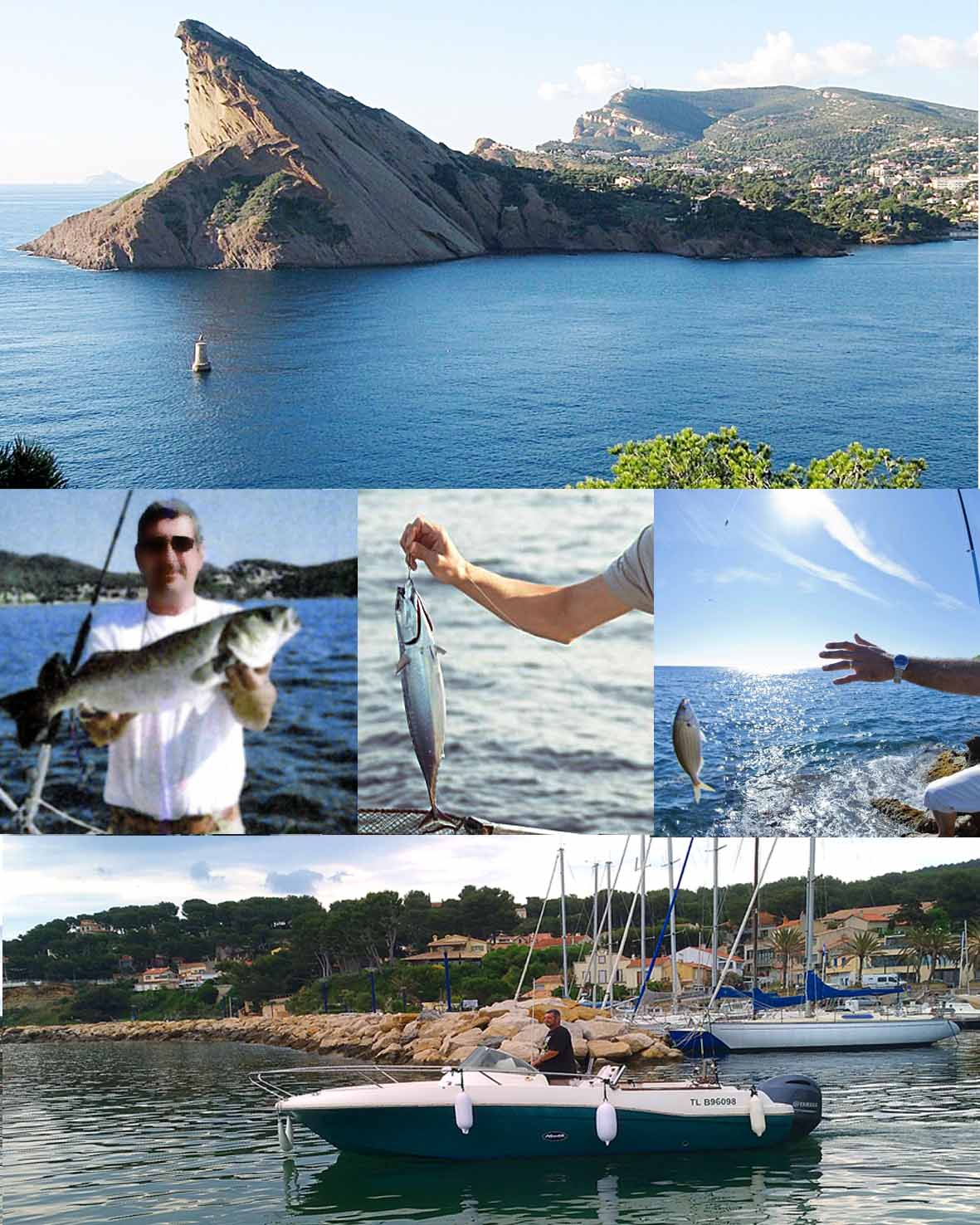 Supermarkets and mini markets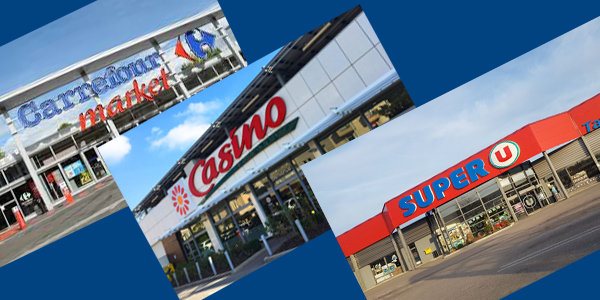 Casino (supermarket) in Saint-Cyr (3 km).
Carrefour Market at the entrance of Bandol (5 km).
Super U in Bandol (6 km).
Gas stations at these stores.
SPAR minimarket in Saint-Cyr.
Small Carrefour (minimarket) in Saint-Cyr.

Weekly markets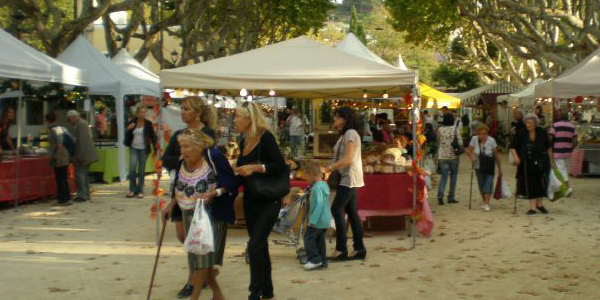 Sundays in Saint-Cyr
Tuesdays in Bandol.
Wednesdays in Sanary. (elected the most beautiful market of France 2018).
Numerous local shops in Saint Cyr (newspapers, hairdresser, bakery, butcher, delicatessen, etc.)
Fastfood and Pizzarias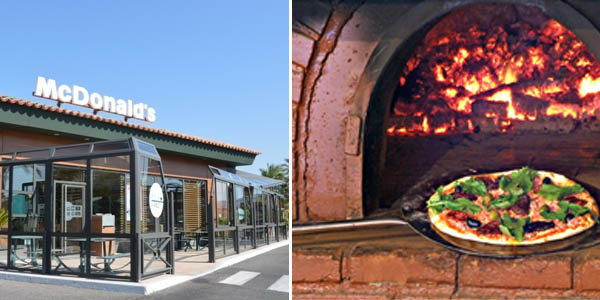 MacDonald's at the entrance of Saint-Cyr.
Many pizzarias with the possibility of delivery, beach restaurants
We recommend:
'Chez Henry' placed at La Madrague.
Au Quatres Vents', 'Chez Moule', at the new port of Les Lecques (Saint Cyr).
Gastronomic restaurants.
Bérard in La Cadière d'azur, 1 star for many years.
Hotel Dolce-Frégate.
Hôtel Beauséjour in Saint-Cyr.
Brasserie Toche in Bandol.
Restaurants of 5 star hotel: L'île Rousse in Bandol.
Le Délos on the island of Bandor./li>


Wellness/Relaxation and Fitnesss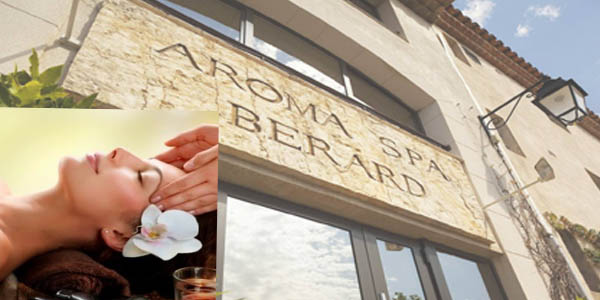 In Saint-Cyr, massages in Bandol.
In Sanary: L'Orientalist>
Doctors and Pharmacists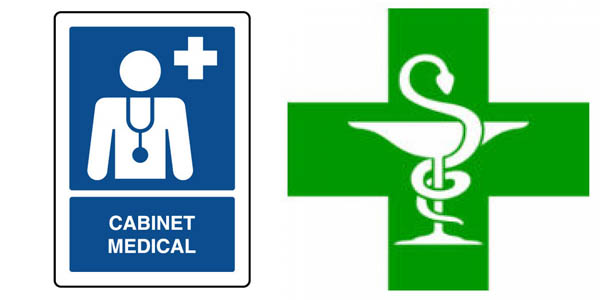 3 medical offices in Saint-Cyr sur mer,
Fire departments in Saint-Cyr and Bandol.
Many pharmacists.
Emergencies at the Hospital of La Ciotat.
In Toulon: medical equipment rental

Harmony medical service
M. EHRHART 06.88.77.23.80
cehrhart@harmonie-hmsge.fr
If you have any questions, contact us by phone at:
0033 618 779 024
GoogleMap geolocation
If you are a little lost with the Google map:
follow this route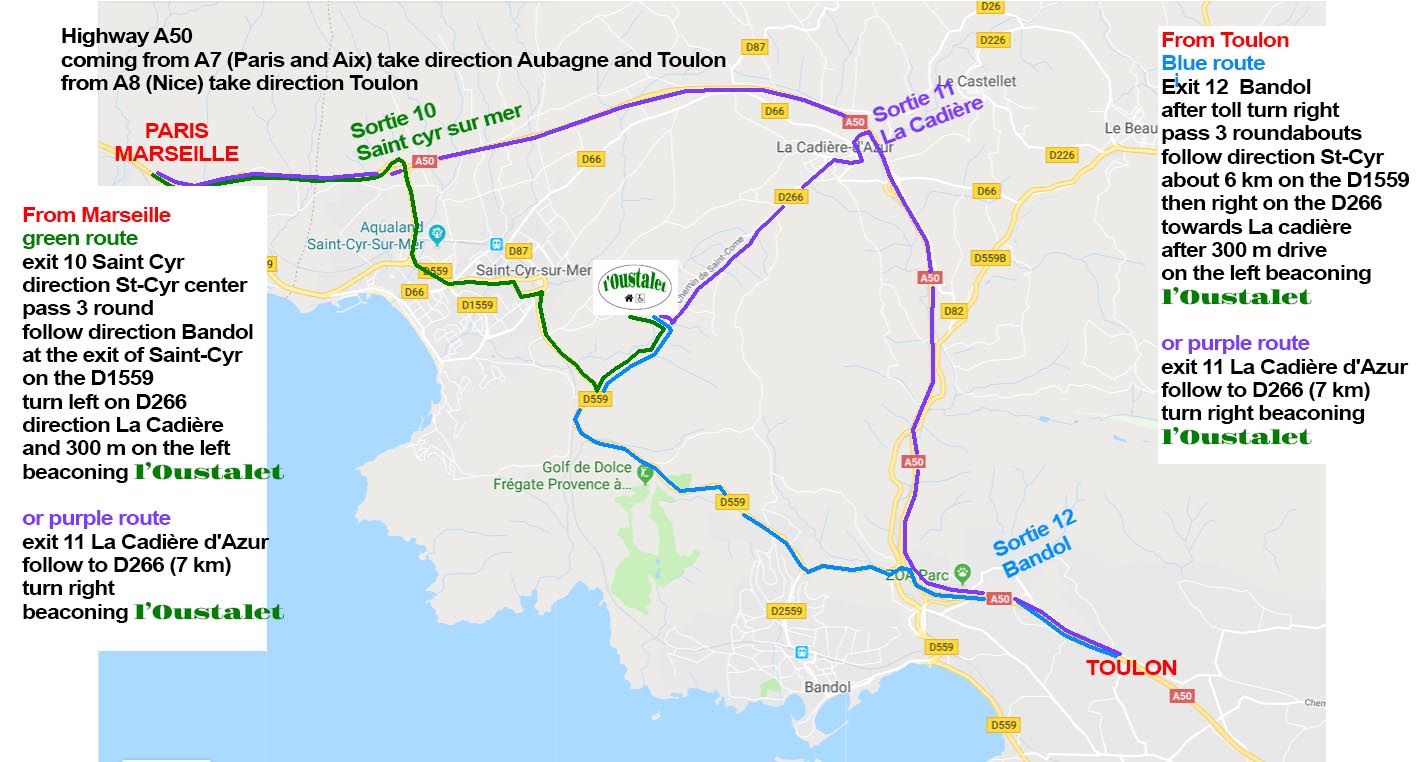 The 'book of remarks'
At the end of your stay, we put at your disposal a white book where you can write your feedback, this allows us to improve anything for other times. We wish you a safe trip back and see you next time, we hope Have a great return trip.

Philippe and his family.